We can help you revolutionize how you deliver customer experiences. Because we capture millions of customer interactions into one place we can improve how you find, capture and analyze customer data.

1
Capture and monitor personalized communications at scale.
2
Pull relevant data matches and related topics with the clients – all customer facing systems and internal backend systems can be connected.
3
Optimize decision-making processes.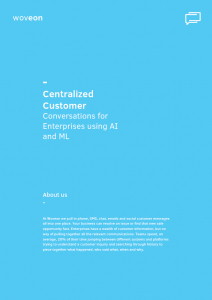 Learn how Woveon can manage the millions of airline customer conversations using our unique Woveon data warehousing technology – for faster customer response management, intelligent conversations, and customer compliance.