Good customer service is an aspect that every business has to focus on and it can make all the difference. With such extreme competition in the market, your customer services can be the reason why your customers keep coming back to you again and again. One of the biggest qualms that customers have is the lack of response they get.
While no one expects to get an instantaneous response, poor communication can be the reason behind why your customers are so disgruntled. In fact, a lot of stories relating to customer success usually have good communication covered. Good communication is easy to think off but a lot harder to implement since it doesn't happen overnight.
Where does Woveon Conversational AI Platform fit in?
With social media and more, you might be wondering how to effectively improve your communication as each platform you use has its own inbox, notification centre and more. All in all, a business ends up having to deal with tons of messages on their own official email, Facebook, Twitter, Instagram, YouTube and even deal with text messages through WhatsApp if they utilise that platform. Wondering how do the experts handle this influx of messages? Get your hands on an app like Woveon.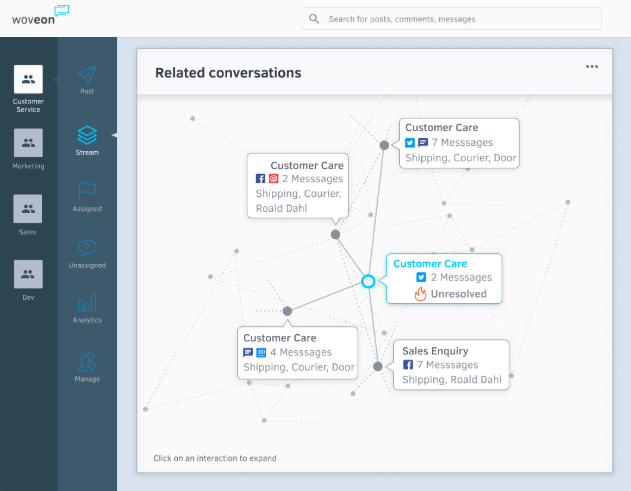 Woveon is one of the platforms you will find which help to address the problem of improving communication through different mediums. Developed for businesses, it is one of the leading tools which ensure customer success on different levels by enhancing your communication abilities. With easy integration as well as flexibility in use, you can easily incorporate Woveon into your business and streamline your communication with ease.
How does it help?
Wondering how Woveon can improve your communication and thereby improve your customer services? Woveon was specially designed to address issues in communication between businesses and their customers. Take a closer look at its features which are specifically designed to smoothen out communication and shorten the response time.
The best part about Woveon is that it was specifically designed by experts in customer services who know what problems a business faces and how to successfully overcome them. It also has a large number of benefits, some of the major ones being:
1. One Inbox
Woveon allows you to see all the messages you get in one single inbox, thereby simplifying the need to open different platforms and accessing the inbox. This also shortens down response time, saves time, energy and even the use of data as you now only have to access one platform in order to get to the messages.
2. Make Messages Easy to Sort
Sorting through your messages for a specific query doesn't have to be a problem anymore. With Woveon, you can organise your conversations according to high value and other details. Give your customers the attention they deserve by using their sorting feature. This also makes it easier to address a particular issue and have it dealt with as soon as possible. You can't lose it in your inbox any more.
3. Learn to Prioritise
Have certain clients that are high priority or a client problem which is also high priority? Use Woveon's prioritisation services which allow you to highlight certain conversations and address them promptly. In this manner, you can ensure that anyone else who is responding to messages understands how a certain client has to be addressed. It also cuts out unnecessary delays and ensures that all messages are addressed and dealt with in time.
4. Personalise According to Preference
When it comes to preference, you can personalise Woveon not only according to your preference but to the customers as well. Customer success through proper personalisation has become huge and you can capitalise on this aspect with the help of Woveon. In this manner, you can also enhance the quality of your customer services by making each customer feel special. By opting for this feature, you can truly shine and stand out from your competitors.
Get a Trial
By working smarter instead of harder with Woveon, you can avail a number of different benefits which all add good value to your customer services. Whether you have limited resources or are not sure you want to commit to it as yet, you can easily try out Woveon's features. Woveon makes it easier for new users to get a better idea regarding their services with the help of their 30 day trial that lets you take a closer look at all that it has to offer.
Request a demo today!
You can also take a look at user testimonials and more to learn about Woveon. The best part is that if you decide to work with them, there are a number of different subscriptions available that are suited to different business budgets. With their help, you will be communication with your clients like experts and creating your own customer success stories in next to no time!
https://www.woveon.com/wp-content/uploads/2019/04/business-client-communication.jpg
426
850
David Dinh
https://www.woveon.com/wp-content/uploads/2018/05/WebLogoBlack@600px-300x89.png
David Dinh
2019-06-06 01:32:55
2019-04-24 02:01:55
Improving Communication with Clients like the Experts with Woveon