All businesses are familiar with the issues of data loss. Fortunately, majority of such incidents are inconsequential, resulting in merely a few minutes of data loss or deletion of unimportant files. However, there are times in which the loss is quite critical in nature and has a substantial cost. As businesses rely heavily on data and information as the economic drivers to grow, business owners and leaders are prone to greater risks if they don't have a backup system in place.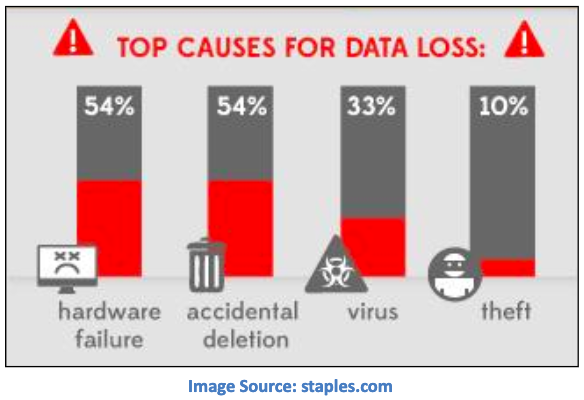 Here are the 4 Major Causes of Data Loss Faced by Businesses today
1. Hard Drive Damage or Failure
One of the most fragile parts of computer systems is the hard drive. They are prone to break down double the times as compared to any other part of the computer. There are some ways of recovering data from a damaged hard drive but they are expensive. However, there is still no guarantee that all of your data will be recovered by the professional.
2. Accidental Deletion
This is another major reason of data loss. There are many instances in which employees, leaders and even business owners accidentally delete a file. If there isn't any backup, then the loss can be significant. It is important to save, store and backup all the work you do regularly as this can save efforts, time, and resources.
3. Damaging Malware and Viruses
There are countless damaging malware and viruses that constantly threat the safety of the computer systems. There are several different kinds of risks involved with these viruses and malware including damaging the operational software, data loss, misuse of internet connection, data theft and so much more. Some severe viruses can not just lead to data loss but can cause huge damage to your system. There have been many such attacks in which businesses have lost important data and/or client information has been stolen, financial losses have been faced. A strong backup system can assist your business in not only protecting all the data but will also be able to restore it in case the data has been damaged or lost.
4. Data Theft
This can lead to major loss for the business. Your data can be stolen with the use of viruses and malware software or an employee who has access to data can steal important information. Not only this, your laptop, tablet or smart phone can get stolen or lost in an airport, crowded place, shops, or conference centre. You can lose a lot of valuable data due to such theft. However, if you have a backup you will be able to restore your valuable data.
A strong backup system and strategy can prevent you from suffering major loses in case you lose data due to these reasons. As, most of the time, the data is stored offsite, your data will still be secured in case of any burglary or natural disaster or any other cause of data loss.
https://www.woveon.com/wp-content/uploads/2019/03/anxious-businessman-biting-nails-working-with-business-data-loss.jpg
493
850
David Dinh
https://www.woveon.com/wp-content/uploads/2018/05/WebLogoBlack@600px-300x89.png
David Dinh
2019-03-12 01:29:38
2019-03-12 01:31:49
4 Major Causes of Data Loss Faced By Businesses