More than 75% of customer-company interactions now occur online. Customers are continuously reaching out to companies over social media. Marketing teams that originally focused just on marketing over social media are now responsible for the customer service interactions. Customers constantly interact with these companies and expect quick meaningful responses.
Here are some great examples of customers contacting companies via social media. Shane from Canada contacted Samsung and explained to company representatives how he is a loyal customer. He told them all the products he owned and then kindly asked if they would send him a new phone for free. In return he offered this picture…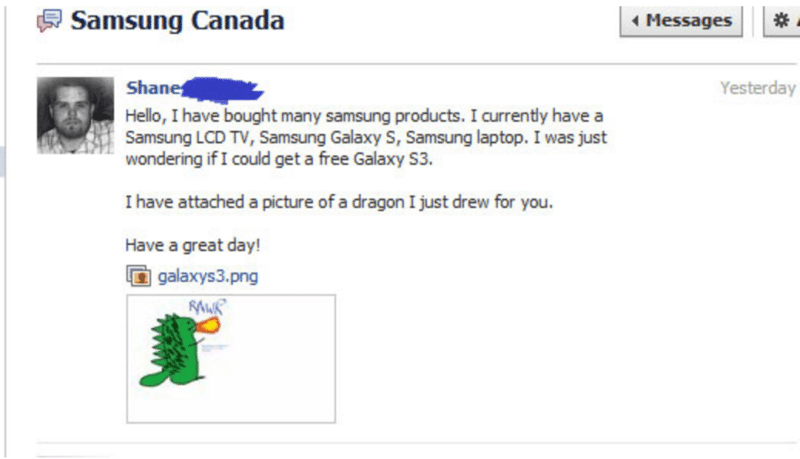 Samsung took this opportunity to show off its excellent customer service and market it to thousands of people. They sent him a new phone, and even customized it by putting his drawing on the back! Social media is a great way to get in contact with your customers, but remember, it's okay to have some fun once in awhile. Samsung and other companies around the world often showcase their excellent customer service over social media because their marketing channels are so well established.
For a better customer service, use conversational technology to easily manage customer conversations. Request a demo now!
Woveon, an intelligent customer service startup, is paving the way in this online industry. Woveon is an easy-to-use online application providing businesses a centralized location to manage their customer channels, such as social media and phone calls. Using machine learning, social listening, a wide breadth of data, and a clean user interface, Woveon helps prioritize inquiries, identify valuable customers, and suggest personalized content. It levels the playing field for small businesses to compete with larger social media teams and helps enterprises visualize customer journeys. It simplifies online customer relations and makes businesses more efficient in managing the touch points they have with customers.
Learn How Woveon Can Improve Your Marketing Strategy
I recently read on Forrester, "I believe consumer behavior will continue to push eBusinesses to re-evaluate their approach to social media and move to more strategic interactions between marketing, branding, and customer service. Consumer adoption of both direct social support and peer-to-peer support has exploded in the last few years. Further, the majority of consumers expect a reply to their Facebook and Twitter posts."
Companies should be working their best to get their customers to interact with their brand online. This can include Facebook, Twitter, email, YouTube and Google Ads. Millions of consumers are already online, and it is easy to reach larger audiences. But once you have reached these larger audiences, how do you manage the questions?
Single Platform Integration
Most companies have multiple channels of communication with their customers. Woveon has created a platform that combines all of your customer channels onto a single page. The simplicity allows your marketing and customer service teams to never miss a conversation.
Conversation History
Conversation history is another important feature when dealing with customer service and marketing. It helps to look at past interactions so that if a similar problem arises, you can quickly solve the problem with the steps in front of you. This feature also allows you to know the customer you are dealing with better.
Conversation Prioritization
Woveon's advanced artificial intelligence and machine learning capabilities can prioritize customers. The program looks into the customer's social media or purchase history and identify more valuable customers. This can include people with large followings on social media. Your customer service team can quickly respond and market how well your brand takes care of its customers.
Customer Service, The Foundation of Online Marketing
Every company's priority is its customers. So why not focus on your valuable customers and solve the problems that arise? Woveon has the ability to simplify and better market your customer service. With so many different social media platforms, it can be hard for companies; however, integrating all channels onto a single page makes it extremely easy to keep track of all customers conversations. Conversation history allows representatives to look back on past interactions to learn more about your customer before interacting with them. It takes a software platform like Woveon to provide superior customer service. 

https://www.woveon.com/wp-content/uploads/2018/04/CUSTOM1-1.png
343
600
David Dinh
https://www.woveon.com/wp-content/uploads/2018/05/WebLogoBlack@600px-300x89.png
David Dinh
2018-04-30 09:46:39
2019-03-21 00:23:02
Customer Service Software: The New Foundation of Marketing Strategies