Get a flexible, coworking or serviced office space today through osDORO!
Before diving in with marketing plan templates, ask yourself this: What would you say is the single technological invention that has changed your life the most? Your phone? Your computer? Tablet?
Draw more accurate and actionable insights from customer data. Request a FREE Conversational Technology demo today!
There's one thing that all of your mobile devices have in common: the Internet. We can all agree that the Internet has completely transformed the ways that all of us live. Can you imagine a life without email and messaging apps? Where you can't contact someone you love right away? Where you'd need to write a letter to someone far away and not receive a reply until days later? (Although we probably all have that one friend who doesn't reply for days.)
Studies show that American consumers use their mobile devices for 5 hours a day. Every year, we spend 69% more time in mobile apps.
As such, Internet marketing has emerged as a hugely profitable field, full of endless opportunities. Spending on digital marketing will grow to a whopping $120 billion by 2021. For consumers who did a local search, 72% of them went to a store within five miles away. For mobile users who did a local search, 50% of them were compelled to visit stores in a day or less.
That being said, how should you capitalize on Internet marketing?
Below are the top 8 Content Marketing Plan Templates
1. Volacci
Price: Free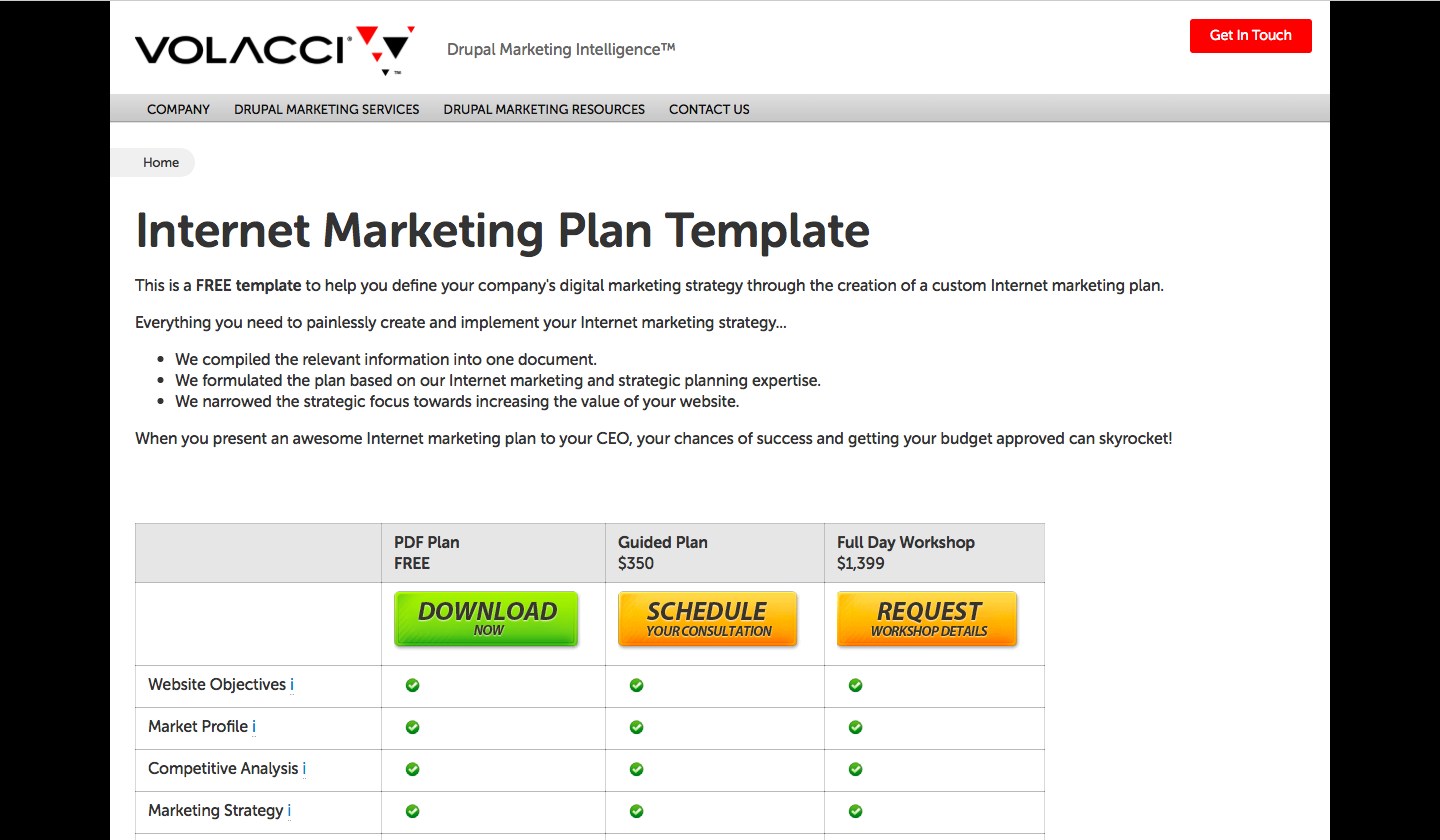 Volacci

offers tools, marketing services, and training, specifically for marketers who use

Drupal

, a web content management system.

Volacci has worked with clients such as

Oracle

,

Red Hat

,

Levin Law

, etc.

Volacci helped increase

Fast Company

's search engine referral traffic by more than

200%

,

Acquia

's organic traffic by over

300%

,

YETI Coolers

' organic and paid traffic by over

400%

, and

e-MDs

' conversion rate by over

400%

.
WHAT WE THINK
Pros
Of the marketing plan patterns reviewed, this was one of the most comprehensive, with 17 pages. It even covers 4 different kinds of advertising: display, affiliate/partner, online advertising and email marketing.

Offers detailed samples of what to write underneath each heading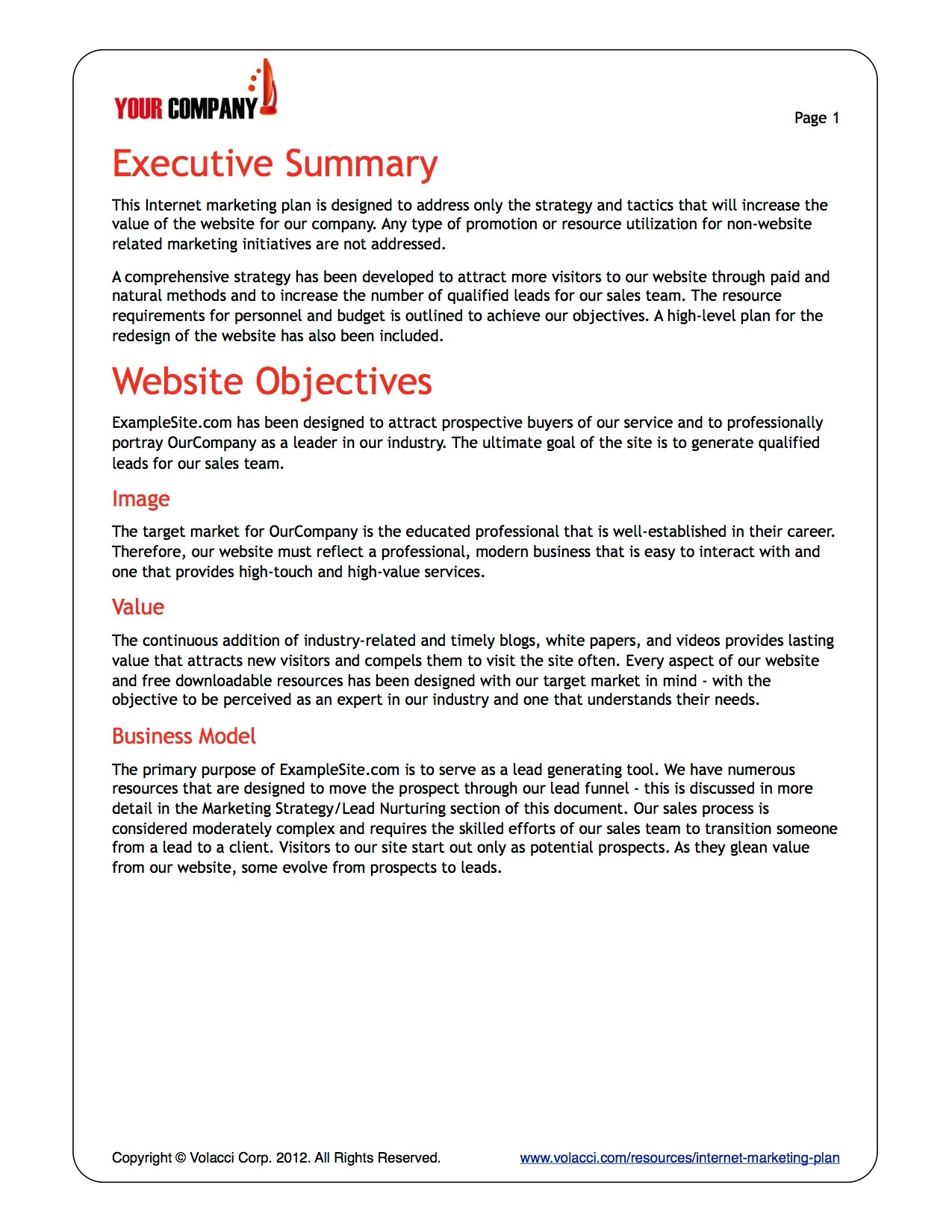 Cons
The detailed samples are very helpful, but they would be even better if they were paired with more general explanations and tips. The beginning of the document does say that Volacci offers another Guided Version that offers explanations.

With such detailed and well-designed headings and tables, you'd be tempted to jump right in and start typing onto the template. Unfortunately, the template is in PDF format, so you'd need to copy and paste into another application.
2. Techeffex
Price: Free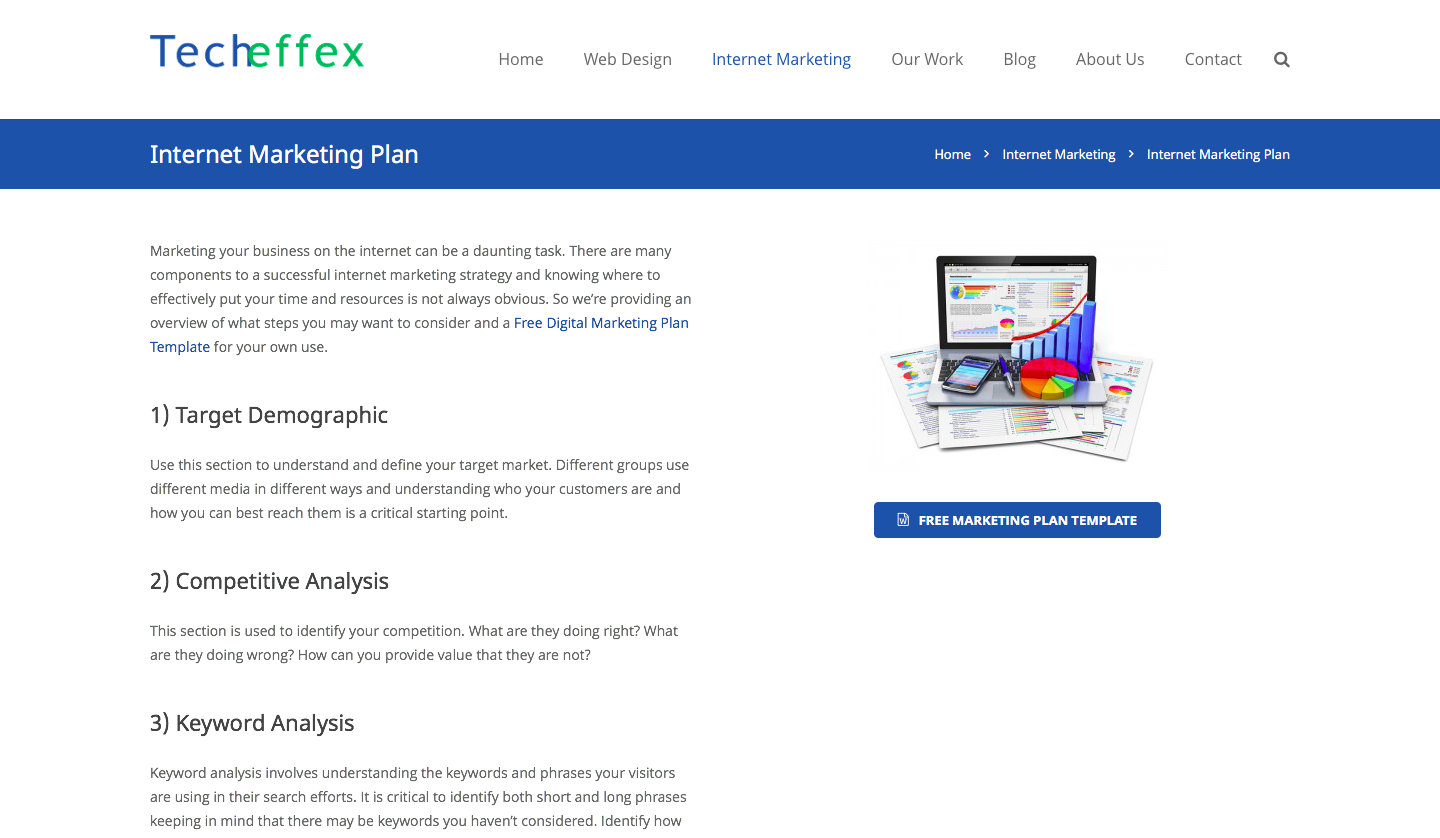 Techeffex

offers various Internet marketing and website development services for individuals, small businesses, and corporate clients and has years of software development experience.
WHAT WE THINK
Pros
With 12 pages, this template is very extensive and covers areas from SEO to content marketing to social media.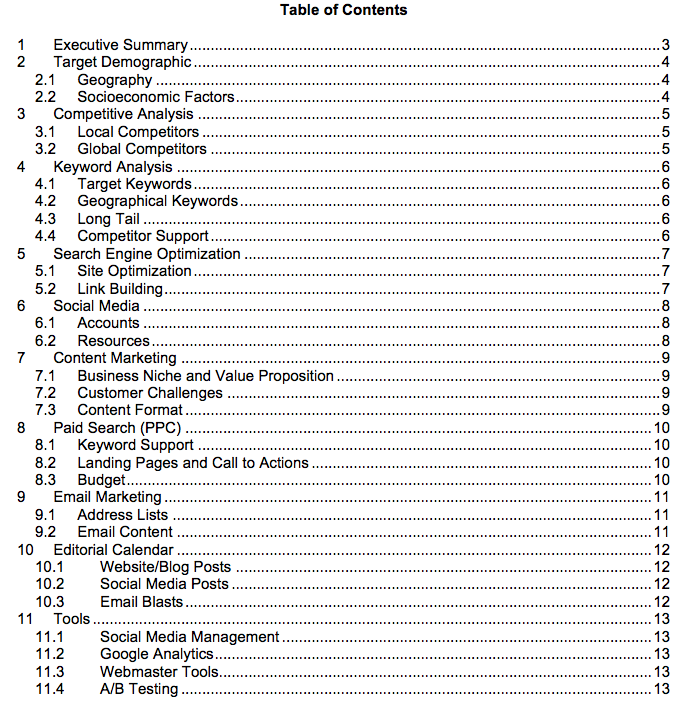 Cons
The explanations under each heading are sometimes a bit vague and too general. For example, in the screenshot below, what does "determine frequency" actually mean? How should I go about doing so?

Including samples of what to write under each heading would help with this.

3. Smart Insights
Price: Free
Based on 15+ years of helping companies and students create, develop, and review digital marketing strategy.

Dave Chaffey, who developed this template, is the co-founder and CEO of Smart Insights. He is the bestselling author of 5 books on digital marketing and was named a top 50 marketing "guru" worldwide for shaping the future of marketing

The RACE planning framework encompasses the major areas of digital marketing planning in the lifecycle of a customer.

Smart Insights

provides toolkits and advice on integrated digital marketing, with

150,000

Basic members and thousands of Individual and Business members across 100 countries.
WHAT WE THINK
Pros
Offers an extensive checklist of concrete, succinct steps of what you can do

Very organized–all checkboxes are grouped under 5 big steps with headings such as "Opportunity," "Strategy," and "Action" under each step

Includes visuals that help you better understand the digital marketing funnel and other concepts
Cons
This isn't what you'd normally think as a "template" since it's only a checklist, which might leave you desiring for blank forms that you can fill in.

The steps are concise, but at the same time, they might be slightly vague and general, leaving you to your own devices, wishing for further guidance. For example, one of the checkboxes below is "Select target market segments and personas. Define digital targeting approaches." How should I do so? What are some examples of target market segments and personas? You might need to do some digging to accomplish these tasks.
4. Vende Social Strategic Internet Assessment Template
Price: varies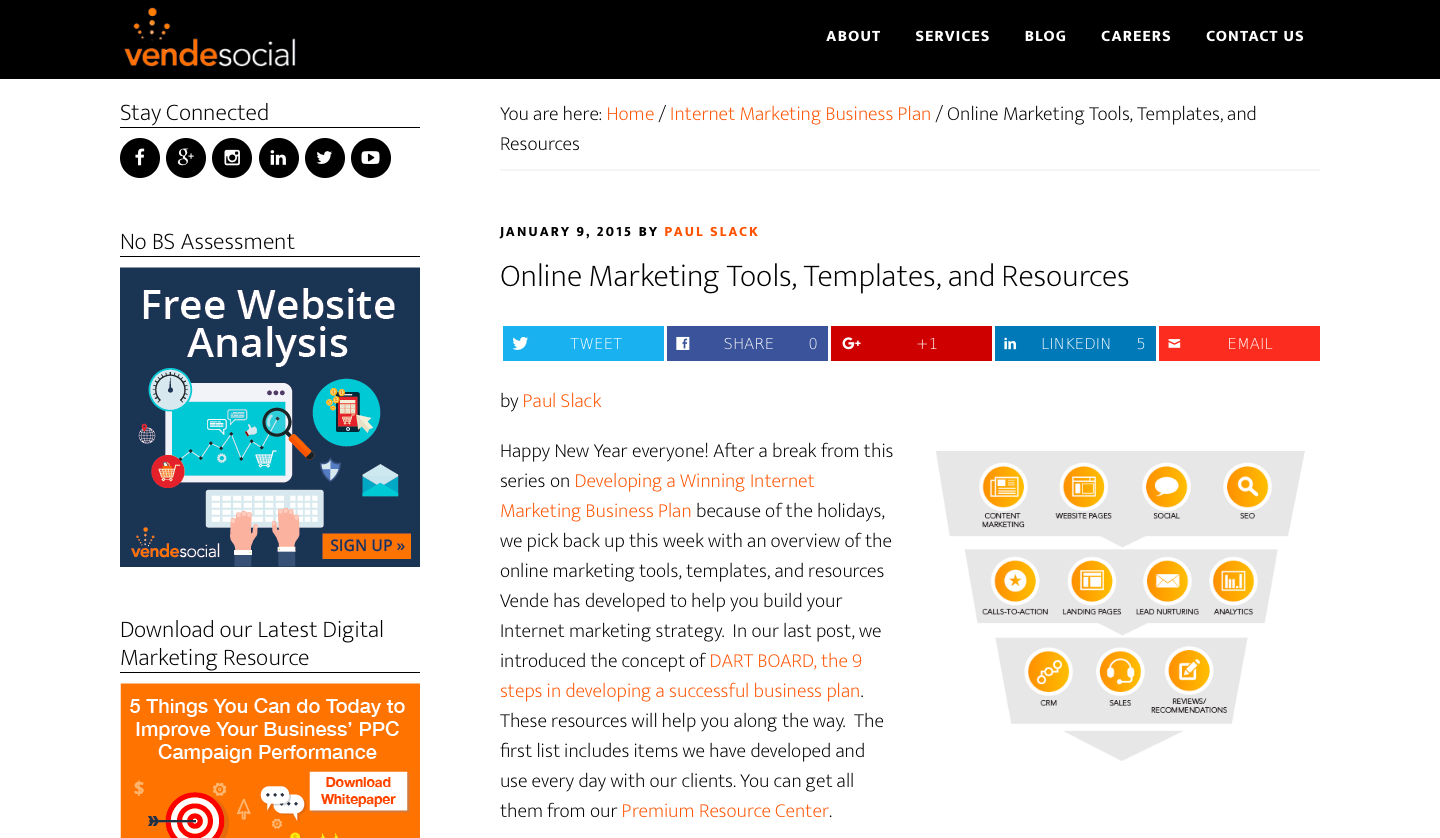 Vende Social

is an Internet marketing firm comprised of digital marketers, designers, strategists, and technologists. It partners with its clients to advance their businesses and connects customers to its clients.
5. E-Video Agency
Price: varies
E-Video Agency

provides video creation, social media, advertising, and search engine optimization services for its clients.
6. Growthink
Price: $97 (special price)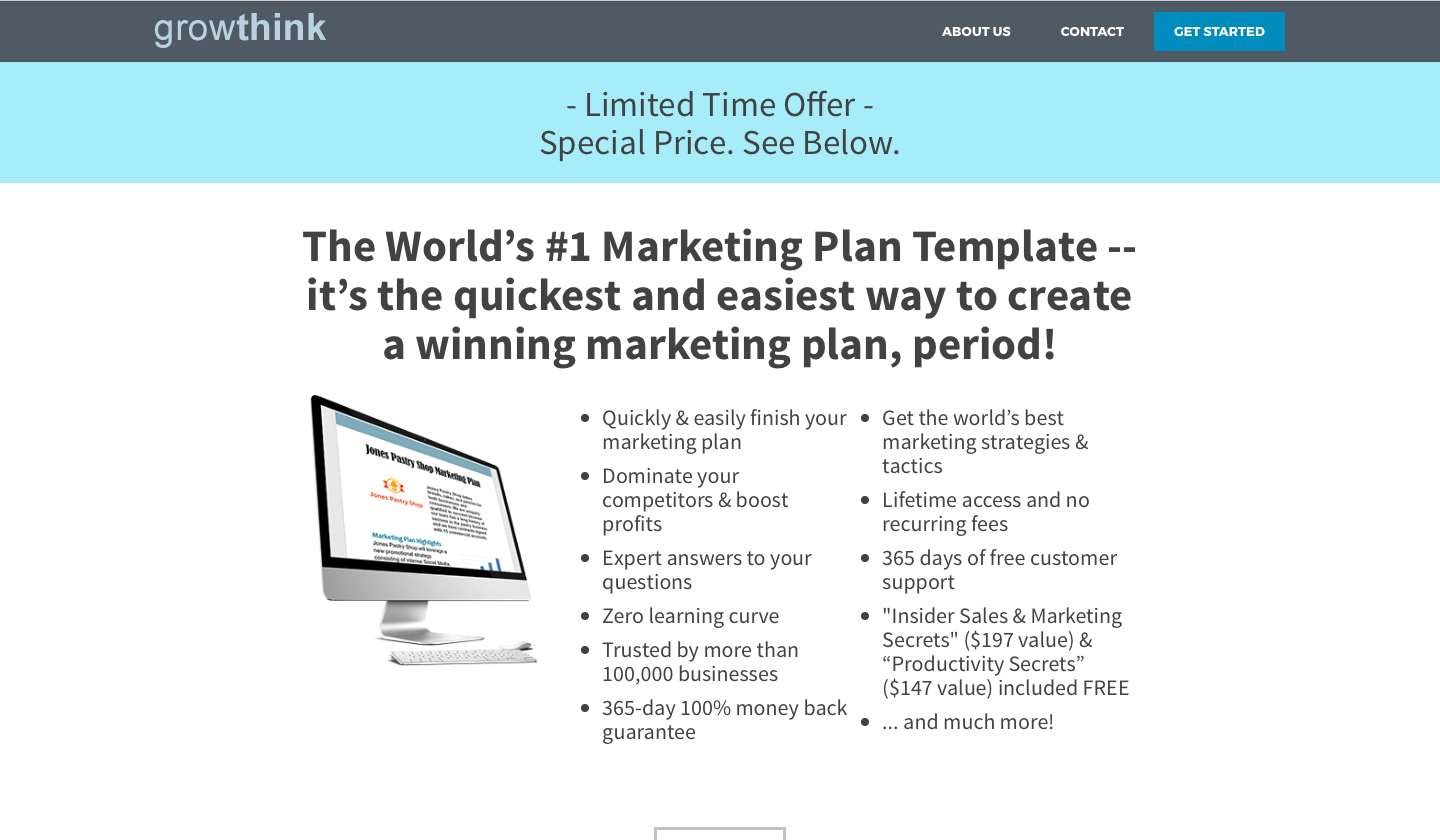 Recommended by Forbes in its

Marketing Plan Templates

article.

With 100,000+ current customers,

Growthink

has assisted 500,000+ businesses and entrepreneurs in successfully founding, scaling, and/or exiting their companies. It specializes in creating marketing and business plans. It is a

Better Business Bureau

(BBB) accredited business with an A+ rating and has been featured on The New York Times, Wall Street Journal, The Huffington Post, BusinessWeek, Fortune, etc.
7. Smartsheet
Price: Free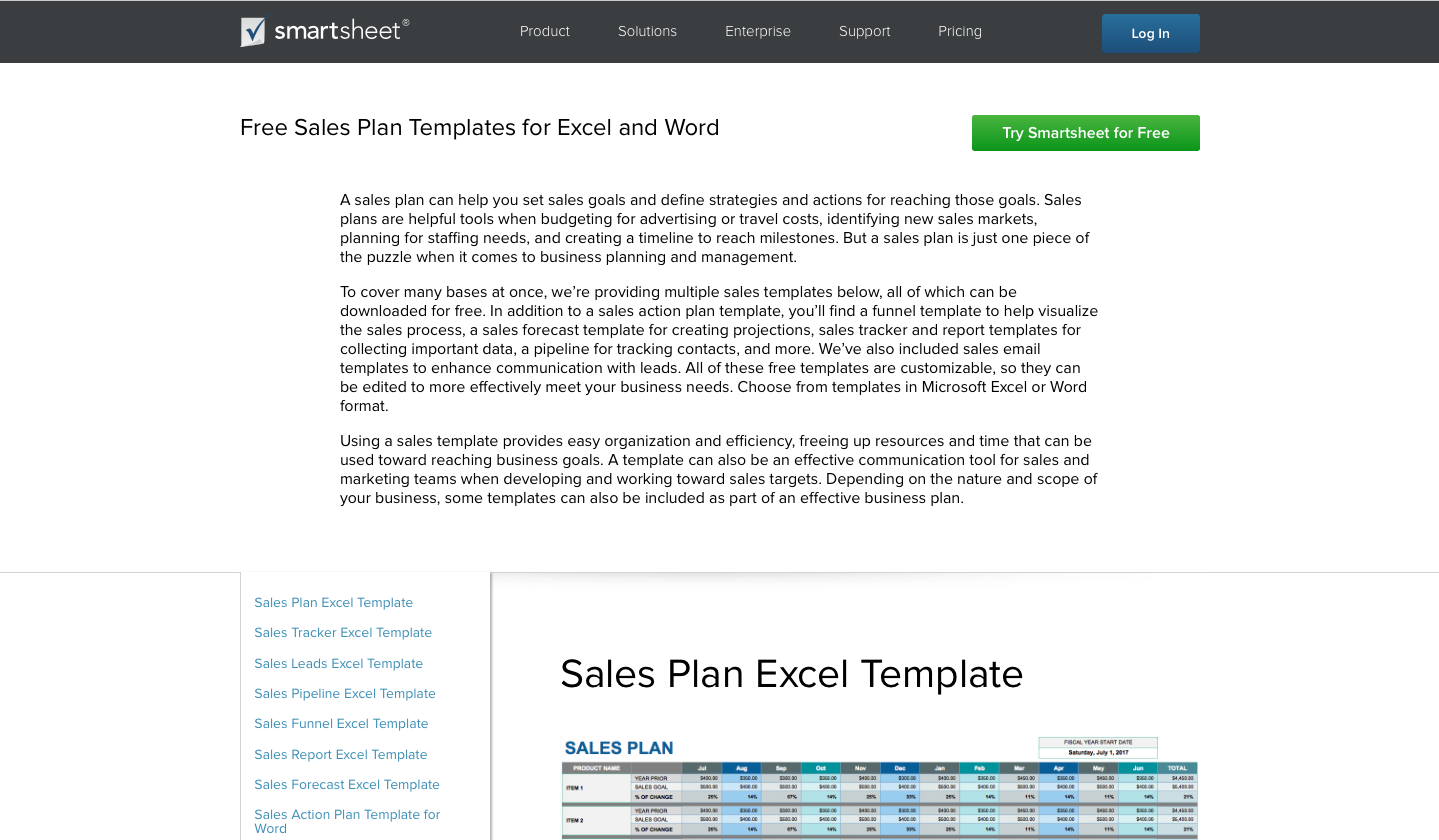 Offers a wide range of templates tailored for competitive analysis, social media, tactical marketing, sales and marketing, budget planning, and strategic marketing.

Smartsheet

provides a software as a service (SaaS) platform for automating and organizing collaborative work. It is used by 65,000 brands and millions of information workers and has received awards from Forbes, Microsoft Office, G Suite, Geekwire, and DocuSign.
WHAT WE THINK
Pros
Differs from the other templates because it provides a spreadsheet that not only includes sections on project goals, target audience, etc., but also sections for quantititative data such as costs

The Smartsheet platform offers a lot of advanced spreadsheet tools and templates for Marketing Team Objectives, SEO Checklist, etc.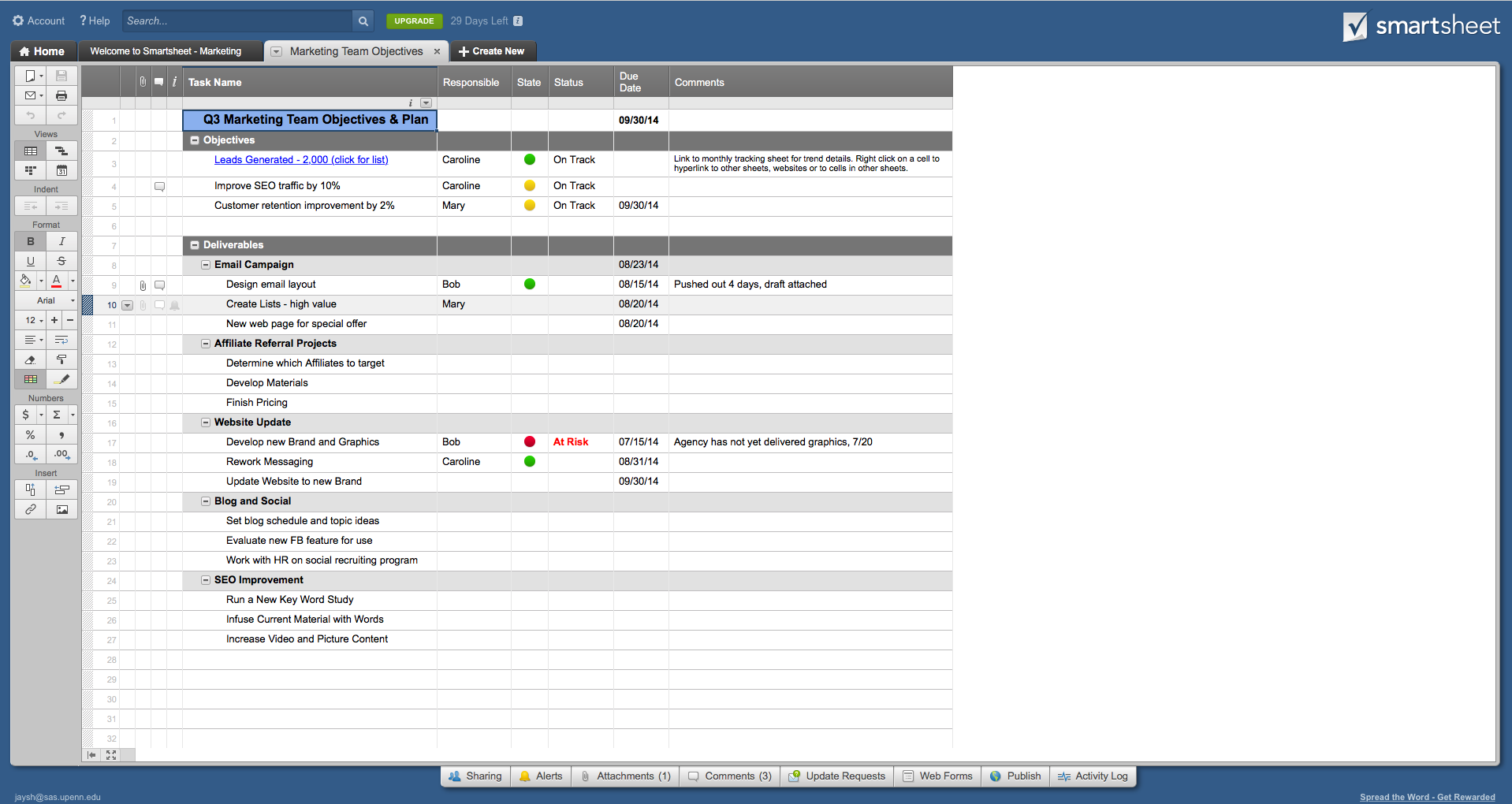 Cons
Although quantitative data is valuable and essential for marketing plans, Smartsheet's spreadsheet templates leave more to be desired in the aspect of qualitative data. A spreadsheet may not be the best format to write down a lot of text.
8. Vital
Price: Free
WHAT WE THINK
Pros
Provides both a Marketing Plan Template document and a Planning Guide spreadsheet

Template offers good general explanations of what to write under each heading.
Cons
With only 5 pages compared to

Volacci's

17 pages and Techeffex's 12 pages, this template could be much more comprehensive and include samples of what to write under each heading.
Ultimately, we think the best way to proceed is to use a mix of the templates above so that the advantages of one can complement the shortcomings of another! For instance, you can use Smartsheet for your quantitative data, Smart Insights for your checklist, and Volacci for your detailed, written plan.
Now, time to blow your competitors out of the water!
Download our free marketing plan templates below to get started!

https://www.woveon.com/wp-content/uploads/2018/07/best-marketing-plan-templates.png
480
640
David Dinh
https://www.woveon.com/wp-content/uploads/2018/05/WebLogoBlack@600px-300x89.png
David Dinh
2018-06-07 10:29:55
2020-12-11 01:49:38
8 Marketing Plan Templates to Blow Your Competitors Out of the Water