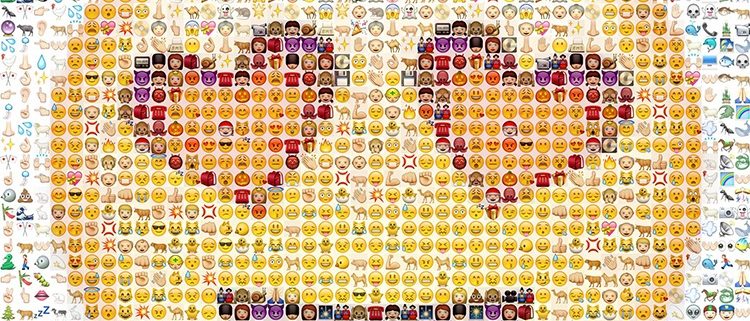 "A picture is worth a thousand words."
And similarly, an emoji is also worth more than a word. This has actually been proven in a University of Missouri-St. Louis study–seeing an emoji is much more enjoyable than seeing a word in the Oxford Dictionary. Surprisingly, research has shown that looking at a smiling emoji ? activates the same parts of our brains as looking at a real smiley face! Emojis change our mood and may even alter our facial expressions to match that of the emoji. Out of the people surveyed, 75% of men and 84% of women think emojis are more effective in expressing their feelings than words.?
What's mind-boggling is that we're not born with these kinds of reactions to emojis. Rather, emojis are so powerful that they have actually shaped our brains and created a new brain pattern.? They're also modifying our vocabulary and speech patterns. According to Instagram, users are substituting Internet slang such as "bae," "rofl," etc. for emojis.
A whopping 92% of the online population uses emojis. Emojis are loved or liked ? by 64% of users but are hated or disliked ? by only 6%. The tremendous rise of emojis has significantly affected digital marketing campaigns. Emojis increase the like rate of Facebook posts by 57% and the comment rate and share rate by 33%.
Because of the effectiveness of using emojis, digital marketing campaigns have pounced on the opportunity. Every year, brands use emojis in digital marketing campaigns 609% more than they do in the previous year. In 2015 alone, brands' emoji usage increased by an unbelievable 777%.?
By now, you should be thinking, "How should I best use emojis for my own digital marketing campaigns?"?
Well, you've come to the right place. 
Use Emojis for your Digital Marketing Campaigns
1. Know your emojis
This may seem like common sense, but misuse of emojis could really backfire and show how out of date a brand is. For example, the peach emoji ? can have different connotations than what seems obvious. Be sure to check out Genius's comprehensive descriptions of each emoji, Hubspot's guide on obscure emojis, and Daily Mail's 12 commonly misunderstood emojis.
Genius's List of Emoji Names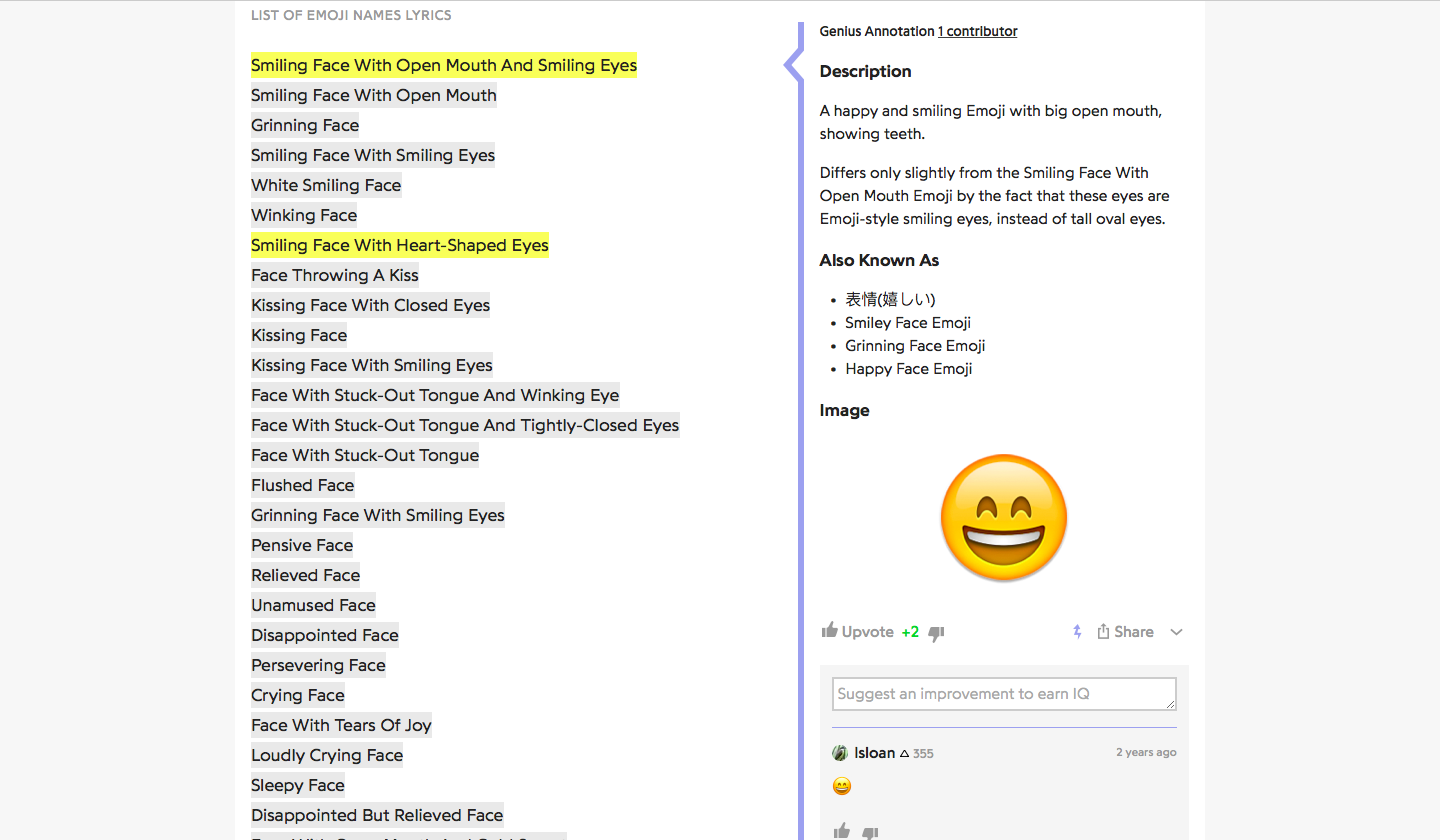 Not only should you know the basic meanings of each emoji you use, but you should also know which ones to use in the first place. Which ones have the highest engagement? Which ones appeal to your audience the most? See the chart below for the top 10 most popular emojis.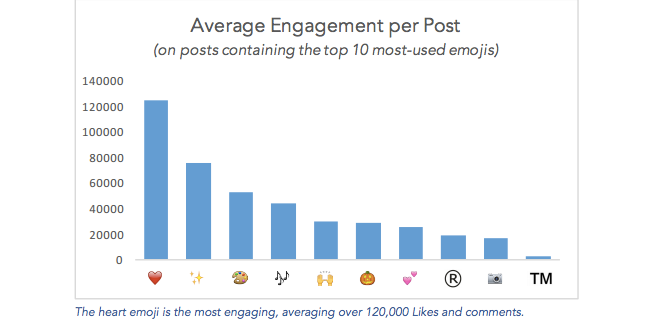 2. Know your audience
Again, this may seem like common sense, but there are some powerful ways, such as audience segmentation, to cater to specific sectors of your audience. Keep in mind that although all of the statistics mentioned above seem to be very positive, there are still 11% of customers who find using emojis in digital marketing to be inappropriate and 12% who think it's childish, which are significant portions of your audience.
Age
Unsurprisingly, emojis are used more by younger people, who also have a higher chance of thinking that it's normal for brands to use emojis. The social media channels in which users see emojis vary for different age groups as well. Users aged 25-44 prefer emojis in texts ? whereas users aged 45+ prefer emojis in emails.✉ Thus, you should make sure to tailor your digital marketing campaigns to users of different ages.
Researchers discovered that English-speaking US emoji users ?? were more "direct" while Japanese emoji users ?? tended to be more indirect, using emojis to decorate their messages or imply something for other users to deduce.
See the chart below for a comparison of emoji usage on Instagram in different countries.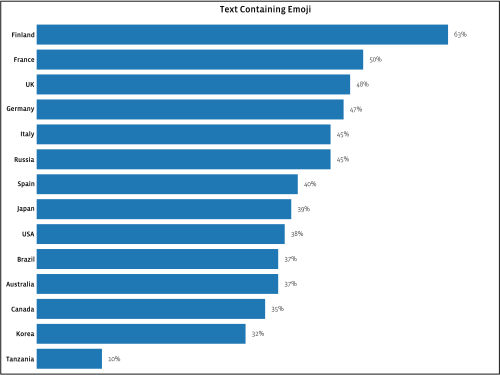 Obviously, brands should maximize their emoji usage in digital marketing campaigns in countries like Finland ?? but reconsider using emojis in countries like Tanzania.??
Ultimately, being mindful of differences in culture, social norms, communication, language, etc. across different regions goes a long way for digital marketing and for any cross-cultural interactions in general.
Age and region are only two of many possible ways of using audience segmentation to customize your digital marketing campaigns for different users.
3. Combine emojis with videos
According to Twitter, chances of videos being retweeted are 6 times higher compared to photos and 3 times higher compared to GIFs. Video ads that include branded emojis kindle SIX times the level of emotional connection and interest.
4. Simplify user engagement
How do you want your customers to use emojis? Do you want them to share/retweet the post? Answer a question? Tag someone else?
General Electric ran an effective digital marketing campaign by asking users to send a snap of an emoji to view their "Emoji Table of Experiments."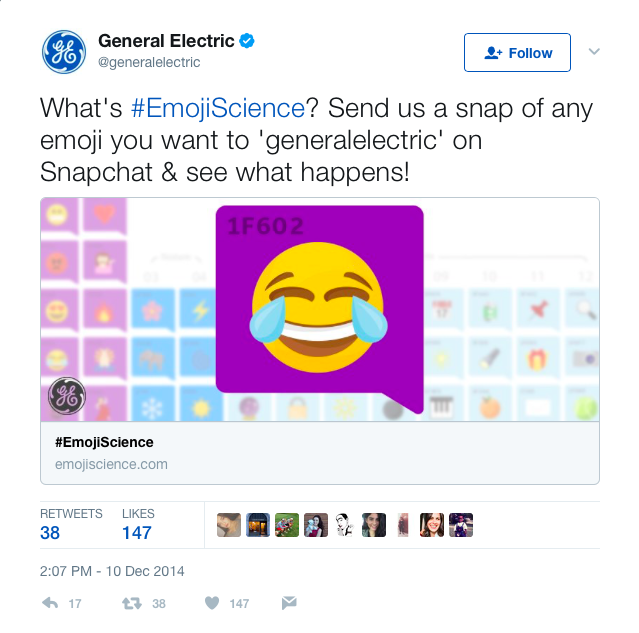 (Source: http://emojiscience.com)
Domino's launched a digital marketing campaign that allowed users to order pizza by tweeting pizza emojis. ? This campaign not only dramatically simplified the process of ordering pizza, but it also increased brand awareness for Domino's, which benefited from free advertising thanks to Twitter users.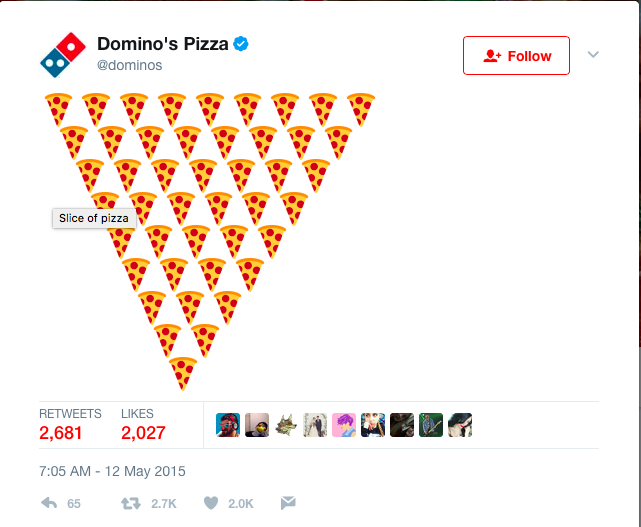 The bottom line is that so many people today are too busy to devote time and attention to digital marketing campaigns, but if you can find a way to make their lives easier and make it simple for them to engage, you're golden.?
5. Don't overuse them
With all of that being said, emojis are a double-edged sword.⚔ Similar to the law of diminishing returns in economics, where past a certain optimal point, something becomes inefficient, the same goes for emoji usage. Let us all learn from Aristotle, where he stated that we should find a mean between two extremes–excess and deficiency.
59% of users aged 18-34 believe brands are trying too hard to incorporate emojis into marketing campaigns.
Like everything in life, there's a balance. Aim to strike that balance for the use of emojis in your digital marketing campaigns as well.
6. Use emojis to track customer reactions
As we said in the beginning, emojis are powerful ? ways for consumers to express their feelings and are more effective than words for most users. This creates a vast field of opportunity for companies like yours to gather fast, up-to-date data on customer reactions to their products, which can be used to target customers in the future. Surely, we can all agree that customers these days are much more willing to share their opinions on social media rather than in surveys.
At first glance, emojis can seem like very simple, fun things that you use in your messages to your friends to make sure that they know you're joking. But emojis actually have tremendous potential and have already transformed the ways we think ? and communicate. Start making use of them today, and comment an emoji below to let us know what you think!
Are you looking to further capitalize on digital marketing but not sure where to start? We've got you covered with 8 marketing plan templates.

https://www.woveon.com/wp-content/uploads/2018/05/HOWEMO1.jpg
750
750
David Dinh
https://www.woveon.com/wp-content/uploads/2018/05/WebLogoBlack@600px-300x89.png
David Dinh
2017-05-11 08:08:33
2019-01-08 23:54:41
6 Tips to Using Emojis in Your Digital Marketing Campaigns