Customer service is often overlooked by many companies because it's hard to measure the direct value of providing great customer experience.
In today's highly competitive market, businesses have to make tough calls on what to focus on next to survive, and unfortunately, providing customer satisfaction is usually on the lower end of the list.
Learn the Importance of Customer Service. Request a FREE Woveon Conversation Software demo today!
Without being able to properly quantify the direct value of great service, many businesses can't justify spending time and resources on providing it. Other businesses just see customer service more as a pain, and choose to be reactive, rather than proactive to customer expectations. However, the truth is, great customer service is absolutely crucial to the long-term survival of the business.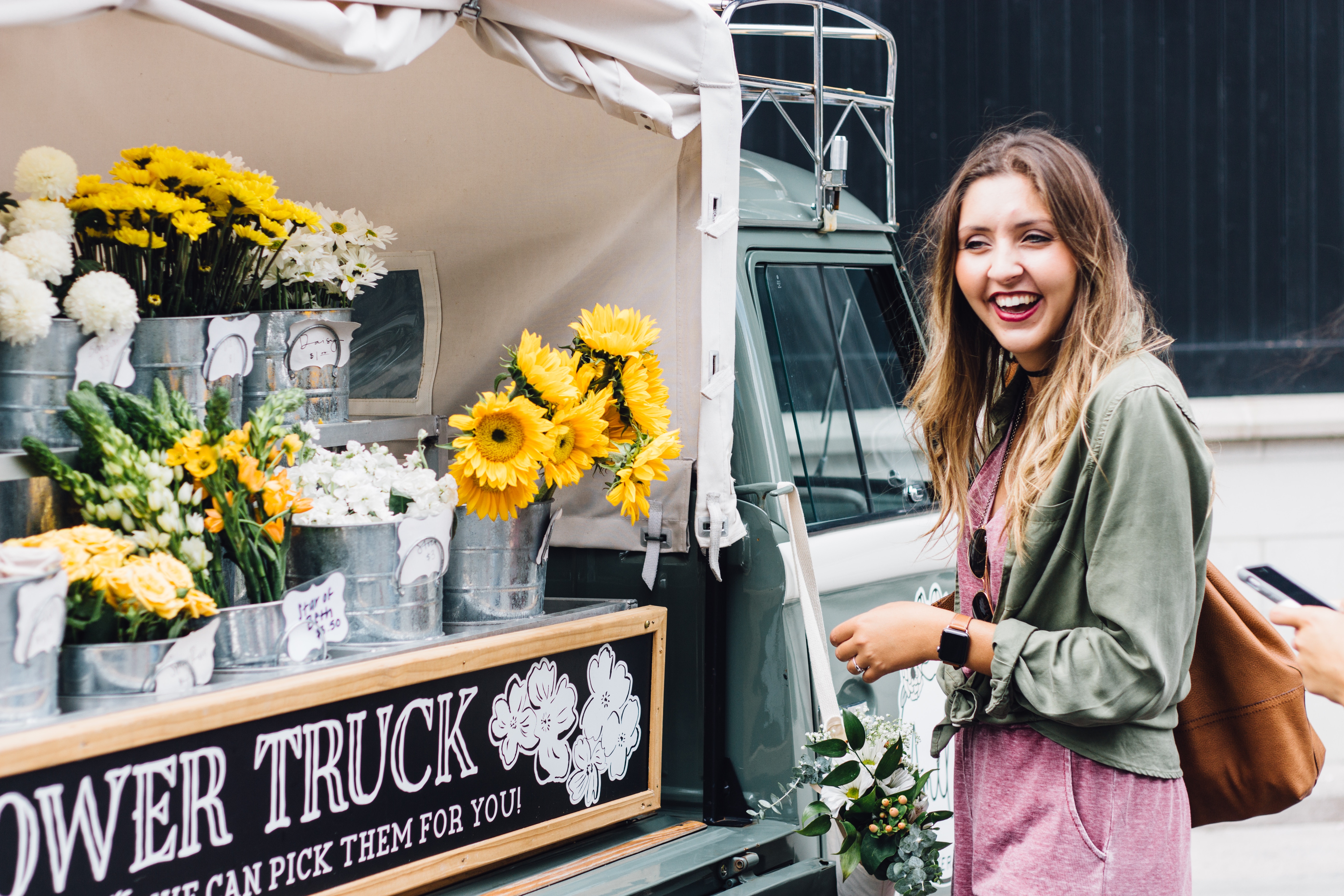 Customer Service Importance and its Value
You can argue that price is the main reason your customers choose you, so you focus your energy and resources on being the most affordable. I'm telling you, there will come a day when a competitor comes in with a better product for a cheaper price.
In the the same way, you can also argue that you focus on innovative developments and that's why your customers buy from you. Again, there will come a day a competitor swoops in and take your customers from you because they made better innovative progress. Do you know what you can invest in that your competitors can't take away from you? Loyalty. Good old customer loyalty.
The best way to gain customers' loyalty? You charm them with your service.
By continuously engaging with them through customer service and marketing efforts, you are fostering a relationship with them. It's hard for people to walk away from someone or something they have formed an attachment to.
A study conducted by Forrester Research found that strong emotional connections with a brand is a stronger driver than other factors like 'ease' and 'effectiveness' across 17 different industries.
So now you know why it's important, what's the value of providing great customer experience and service to create highly engaged customers?
The Value of Customer Service
1. Retaining customers is much less expensive than acquiring new ones
It's true. Acquiring a new customer can be anywhere from 5-25 times more expensive than keeping a current one. You don't have to spend so much time and resources finding a new customer and converting them. Instead, you just have to make sure they're satisfied and will repurchase from you.
Customer support contributes a large portion to the retention and satisfaction of customers. Many companies put a lot of time and resources in their sales and marketing teams, when just as much emphasis should be put in support or success teams. When done right, they can have a bigger impact on your bottomline than new acquisition activities.
2. Repeat customers generally spend more than new ones
A study by McKinsey found that eCommerce spending for new customers on average is $24.50, compared to $54.50 for repeat customers. Even better, highly-engaged customers buy 90 percent more often and spend 60 percent more per transaction.Making a customer happy shouldn't be a one time thing at the beginning of the relationship. Most relationships are more valuable the longer they are. Businesses should be putting more emphasis on their customer service, success and support teams because the financial growth potential is much larger than in newly acquired customers. Plus, the probability of selling to an existing customer is 60 – 70%, whereas the probability of selling to a new prospect is only 5-20%.
2. Great service reduces the severity of overall problems.
We've all had problems with companies before. In the moment, you might be upset, angry, annoyed or all of the above. If you had to talk to a rude customer service rep on top of all that…I'd imagine you wouldn't be too happy. What originally may have been a small problem would go from 0 – 100.
In the same way bad service can escalate problems, good customer service can reduce them. When delivered well, customer service can diffuse negative emotions from the customer and the situation. Excellent customer service can turn the situation around into a positive. Small things like apologizing, empathizing and being genuine can go a long way to reduce a customer's negative emotions and the severity of the overall problem.
82% of satisfied customers will "likely" or "very likely" keep shopping with a company and give it another chance if something goes wrong.
3. Builds brand awareness with minimal effort.
Customers are being more and more vocal about how a company treats them and how a company makes them feel. Considering your customer service team are likely to be the only people in contact with a customer, they play a crucial role in shaping their customer experience, and by extension, whether they have good or bad things to say about the company.
It is therefore important that every interaction with a customer should make them feel valued, listened to and supported. Extra points for going beyond expectations like Paul from Zappos. It was a simple response to a customer whose shoes were falling apart, but he made it so much more. This ended up being shared on Reddit, Hubspot and Helpscout and championed as customer service at its best.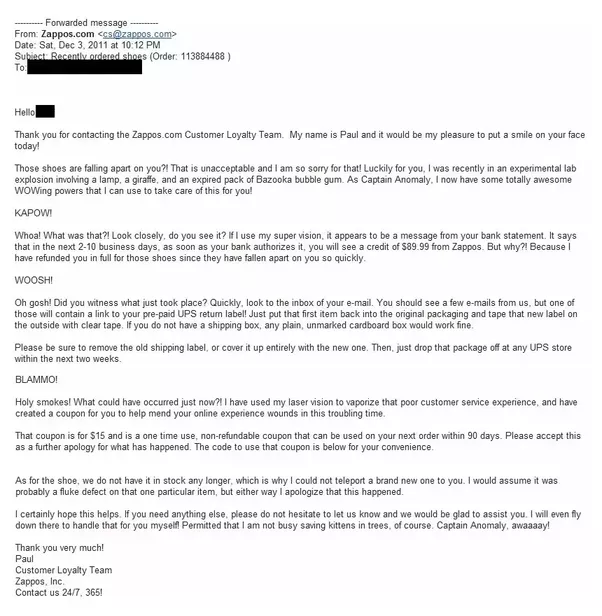 Source: Reddit
4. People remember the service a lot longer than they remember the price.
Think back to a purchase you made a couple of years back. Heck, think back a couple of months even. I can't even remember the price of something I bought in the last few months!
What I do remember though, is the service, the delivery and the effort I had to put in to make the purchase. It's not about the destination, it's about the journey. And in this case, the price you paid is the destination, and all that leading up to the purchase, is the journey. People will talk. If they liked the journey, they will recommend it to others.
5. It's a competitive advantage no one can take away
With rapid innovation reducing differentiation between one product and another, and competitors just a click away, customer service is one of the last frontiers of sustainable competitive advantage for businesses.
Many businesses will pay lip service to the value of customer service, all the while cutting costs and resources to provide it. This will only ensure they provide the bare minimum to support customers, it doesn't mean it's anywhere near good enough to be a advantage. When normal customer service standard means going above and beyond for a customer, that is when customers will choose your business over someone else's.
Customer Service Takeaway: Customer service is becoming more important than ever as competitors increase and are closer than ever. A customer is 4 times more likely to defect to a competitor if the problem is service related than price or product related. No one wants to do business with someone they don't like. The product or service doesn't matter anymore. They can easily substitute with other products or services that function similarly. Customers would rather deal with the slight inconvenience that the competitor's product or service doesn't function the same way, than to deal with the huge inconvenience of not being supported by your business.
Customer service, when delivered to the satisfaction of customers, not only creates a powerful marketing opportunity for the business, but also helps with the bottomline. Not only are return customers easier to sell to, they will spend more per transaction and would pay extra to guarantee better service.

https://www.woveon.com/wp-content/uploads/2018/07/Blog-Feature-Images-1.png
480
640
David Dinh
https://www.woveon.com/wp-content/uploads/2018/05/WebLogoBlack@600px-300x89.png
David Dinh
2018-07-12 08:22:10
2019-05-09 06:54:22
Customer Service: Its Importance and Value