When someone mentions a retail store, you'll most probably imagine a building, amidst a crowd of parked cars. A clear picture of aisles and aisles of different products will cross your mind. And then you would also imagine some of the other shoppers you're likely to meet there. This might ring true for many people but even if you enjoy experiencing the oddity of everyday life, who has the time for such nonsense? After a busy day at work, the last thing you'd want to do is stand in a queue at the retail store, just to buy a 1L of milk. Retail stores identified the 'need for speed' and thus, the multi-channel strategies were formed.
Related: How to Turn Your Company into a Multi-Channel Success
Woolworths – The Fresh Food People

Woolworths is one such retail store in Australia, who has adopted multi-channel strategies to serve their customers better. They opened their first store in Sydney, in 1924 and soon afterwards, gained the popularity that have made them one of the leading retail stores in Australia. By revenue, they come on the 2nd place, after Wesfarmers.With over 3000 stores across Australia and New Zealand, the team at Woolworths soon realised that the traditional brick-and-mortar store strategy wouldn't be able to satisfy their customer needs and so in 2011, they took the initiative to become the country's leading multi-channel retailer. They decided to achieve their goal through a holistic and integrated strategy so as to capitalise on the country's growing demand for online shopping. Fast forward to 2017 and the business is blooming for the retailer. For their third quarter in 2017, Woolworths revealed that their online sales have increased by 20%. According to a study analysed by Australian Consumer, Retail, and Services (ACRS) Research Unit, just four advertising channels (websites, personalised direct mail, TV ads and catalogues and flyers) are responsible for influencing 92% of a consumer's purchase decision.
Online Delivery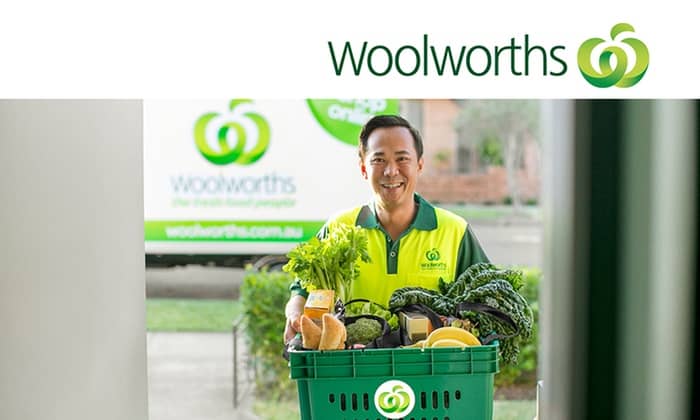 The ease of online shopping at Woolworths is certainly unmatched by many other retailers operating in the same industry. With reward offers and personalized shopping experience, customers can easily get their shopping delivered to their home or pick it up from the store, all ready for them.
The 'Track My Order' option helps customers know when to expect the delivery and even schedule the time of their delivery.
Shopping App

Want to save even more time? The Woolworths app is available on both Google Play Store and Apple App Store. From personalised shopping lists to a store locator, the app offers the ultimate ease for its customers.
Dark Stores
When Woolworths opened its first 'dark store' in 2014, it was to reduce the time it took to fulfill online orders faster. The 'dark store' looked exactly like the other Woolworths stores, except that it was bigger in size. The aisles were maintained, the products were stocked neatly but it was closed to the general public.
You might wonder why a store wouldn't allow customers in. That's because the store isn't for customers!
In this fast paced world, not many people have the time to waste on grocery shopping. A better alternative is online shopping but there were some issues to ordering online too. Most of the times, deliveries would take too long and Woolworths realised the need for faster deliveries. Hence, the 'dark store' was set up. It was Woolworths first dedicated online store and personal shoppers were amazed with the results.
With conventional stores, an ever present flow of customers makes it difficult for the staff to pick up online orders. The only time online orders can be picked is either early morning or at night, when the customer flow is at its lowest. Now, the dark store has solved this problem.
With no slow-moving customers blocking the aisles, the team at Woolworths dark store was able to fulfill orders quickly and at any time of the day. At peak hours, there can be as many as 80 pickers on the floor, at the same time.
Conclusion
Supermarkets are just one niche that Woolworths deal in. With a number of liquor stores, liquor supermarkets, petrol stations and discount department store chains, Woolworths Limited deals in numerous channels.
In order to enhance their digital business capabilities, Woolworths invested in contact center technology-as-a-service and in doing so, experienced a 40% reduction in touch points for email. Woolworths have expanded due to their award winning multi-channel initiatives and with their attention on innovation for increased customer experience, they are changing the face of Australian retail.
https://www.woveon.com/wp-content/uploads/2017/10/multi-channels.jpg
670
1000
David Dinh
https://www.woveon.com/wp-content/uploads/2018/05/WebLogoBlack@600px-300x89.png
David Dinh
2017-10-12 22:40:41
2019-03-14 04:24:50
One Company - Multi Customer Channels